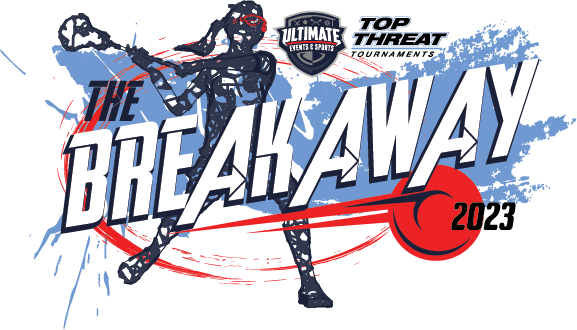 The Breakaway
West Chester University -
855 S New Street
West Chester, PA  19382
June 10, 2023- June 11, 2023
*Registration is closed. If you would like to join our waitlist please contact, caroline@ultimateeventsandsports.com
NEW - IWLCARecruits will be our official film and player profile provider in 2023.
* Film for The Breakaway is included as part of a IWLCARecruits Pro
Subscription

!
**NOTE: REQUESTS CAN ONLY BE SUBMITTED BY A HEAD COACH OR CLUB DIRECTOR; NO OTHER REQUESTS WILL BE CONSIDERED. THE TOURNAMENT RESERVES THE RIGHT TO SCHEDULE ALL GAMES AS THEY NEED TO, AND ALL TEAMS ARE EXPECTED TO PLAY IN THE GAMES THEY ARE SCHEDULED.  SCHEDULE REQUESTS WILL BE CONSIDERED WHEN MAKING OUR SCHEDULE, BUT ARE NOT GUARANTEED.
About The Event
Premier Recruiting Showcase with Top Competition
Games played on a college campus with turf surfaces and high quality well manicured fields
9 premier surfaces in one location
Centrally located with family friendly activities near by, as well as, ample hotel rooms
Team Managers rate the strength of their schedule to optimize the level of competition in each division
Certified officials and weighted brackets
Less then an hour from Philadelphia
Block scheduling for family convenience
All games will be filmed and distributed to all college coaches in the Nation via ConnectLax
Returning for our 2nd year and building on our momentum and solid competition from 2022.
2 of the Country's top tournament operators coming together to put on one of the summers highest quality events. Focused on customer service, high quality games, and connecting the players to the college coaches!
GAME DETAILS
FULL regulation size fields
Games are 50 minutes: 2 x 25 minute halves
4 Game guarantee
Running clock with a central horn
Divisions
2024-2027's: $1800/team, $450 non-refundable deposit
2028-2030s: $1,650/team, $450 non-refundable deposit
Roster Details
MAX of 22 players/team; MIN of 15 players/team
Rosters and waivers will be due by TBA
Rosters and waivers will be submitted electronically; further details to follow
All players must be USL members. Their membership numbers will be captured during the registration process. Further details below.
Important Dates
Registration OPENS: Wednesday, July 27, 2022 @ 10am
Final Balance DUE: March 1, 2023
Online Player Registration (Waiver) DUE: May 24, 2023
Final Roster Validation DUE: May 26, 2023
Schedule POSTED: May 30, 2023
Top Threat Tournaments and Ultimate Events and Sports are working closely with Pellucid Travel to source the best hotels and contract with a variety of hotels to fit all accommodations for The Breakaway. Pellucid Travel requests to work with a wide variety of lodging partners in order to secure excellent rates for all of our teams.
Our event is a Stay to Play policy for all attendees/groups in need of hotels. This is order to ensure that the hotels, cities, and counties are assured that the discounts they offer are used.
Pellucid Travel works closely with our lodging partners to track team reservations, work to make sure that there are enough rooms, and secure excellent rates for all teams attending each event. They are committed to working with tournaments around the world to provide a high-quality travel and lodging experience that fits the individual needs of each team attending.
If you have any questions, please feel free to email Pellucid Travel at Linda@PellucidTravel.com.
Game Film
Ultimate Events and Sports has teamed up with IWLCARecruits to bring you the best video coverage.